Dancing New Year's Eve CT 2022-2023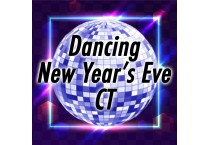 Ring in the New Year at this fun event full of music, friends, and dancing!
Cancellation/Refund Policy: There are no refunds or returns unless the event is cancelled because of issues related to COVID. You may transfer registration with email confirmation.
Rules for Safety
Fully-Vaccinated:

Our events are currently only for fully-vaccinated students who are not immunocompromised. Students are asked to

pre-submit a picture of their completed vaccination card by e-mail.
Masks

: As of June 1, 2022, masks will be optional for our attendees. If you decide to wear a mask, the CDC recommends

KN95s and disposable surgical masks

(cloth masks should be avoided). We may change our position on masks at any time to keep our dance community safe.

Rotating:

Students have the option to rotate or dance with their own partner.

Common Sense Health:

If you are not feeling well, have a cough, are sneezing, or have a fever (greater than 99.9), please do not come to this event.

Travel outside of CT/NYC area (domestic or international) (updated Aug. 1, 2022):

If you have traveled outside of the CT/NYC area (domestic or internationally) in the 2 weeks leading up to the event date, you must test on the the day of the event and

email your negative result to us.
Risk Events (updated Aug. 1, 2022):

If you attended an event in the 2 weeks leading up to your class/event/private that included ALL of the following: a) Indoors, b) 100+ attendees, c) Unvaccinated individuals, and d) Dancing or dining, you must test within 24 hours of event. Examples include (not limited to): a dance event, cruise ship, wedding, bar/bat mitzvah, holiday party, etc.

Please email the negative test result to us to return to your class/event/private.
Tested Positive for COVID-19:

Students who test positive for COVID-19 may an event for 5 days or until they are without fever/symptoms for 24 hours, whichever is longer. Day 0 is the first day of symptoms or a positive test. While attending the event, outdoor mask breaks cannot be taken around other students for 10 days.

Please email us prior to returning to class for approval.
---
Saturday, December 31
1:45pm - Arrival and Check-in
2:00pm - Beginner Salsa Lesson
The hot Latin American dance.
2:30pm - Salsa Party
3:00pm - Beginner Hustle Lesson
The fierce dance from the 1970s.
3:30pm- Hustle/Disco Party
4pm - Beginner West Coast Swing Lesson
The smoother, sexier version of the swing dance family.
4:30pm - West Coast Swing & Mix Party
6:00pm - Departure