The Schedule for Dancing New Year's Eve CT
It's all about having fun and meeting new people!!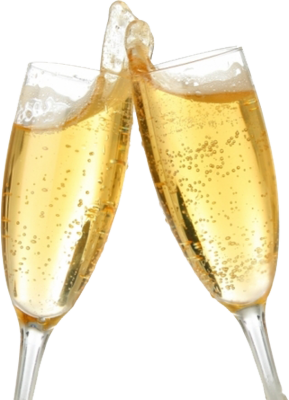 Our schedule begins with 3 dance lessons that are designed for beginners. We'll show you how to get started in Salsa, Hustle, and West Coast Swing. These lessons are open to any registration type.
After a short break to get dressed up, we'll meet in the Grand Ballroom for your New Year's Eve dinner. Music will already be playing so feel free to warm up the dance floor while you enjoy dinner with the people you know and those you have just met.
Once dessert has been served, the party really kicks off! DJs will be spinning the best of Salsa, Hustle, West Coast Swing, Ballroom, Motown, and party favorites to keep everyone dancing all night long. There will be a joyous champagne toast at midnight, the open bar serves drinks until 1am, and the party goes until 2am. It's going to be a great night!!
---
3-6pm Dance Lessons
Casual Attire, No Experience Required, No Partner Required
All 3 lessons are INCLUDED with any registration!
3pm Beginner Salsa
Salsa has its origins in Latin America and was heavily influenced by African rhythms. It became popular in the United States in the mid-1970s. Its polyrhythmic music makes it exciting to listen and dance to. Its basic form is a repeating 4 count basic (forward/backward or side/side). This dance can be both elegant as well as sensual.
4pm Beginner Hustle
Hustle, an American dance which originated in the 1970s, is the sports car of the partner dance family and is designed to be a crowd pleaser. It is the partner dance that took the country by storm and was featured in numerous movies. It is danced to club hits of yesterday and today. The dance is highly dynamic, flashy, and powerful. Its movement is a 3-count basic. If you have 30 seconds to impress your friends, this is your dance.
5pm Beginner West Coast Swing
West Coast Swing is a form of swing dancing that is danced to moderate tempo Blues, R&B and contemporary music. It is the smoother, sexier version of the swing dance family. Its basic patterns are both 6 and 8 beats. It is highly musical and can adopt many nuances from other forms of dance. This makes West Coast Swing a highly versatile dance form.
---
8-10pm New Year's Eve Dinner

Dinner guests will receive New Year's Eve favors on their table
Enjoy a fabulous New Year's Eve buffet dinner and open bar, catered by the Stamford Sheraton with desserts by Palmers Bakery of Darien, CT. This is a wonderful time to spend with friends, family, and new acquaintances. Many people start their night of dancing during dinner and we encourage you to give the dance floor a try.
If you would like to create your own group table (10+ people), we can easily make that happen. Find out about becoming a Table Organizer.
---
10pm-2am New Year's Eve Party
Midnight at Dancing New Year's Eve CT
DJs will be spinning the best of Salsa, Hustle, West Coast Swing, Ballroom, Motown, and party favorites to keep everyone dancing all night long!
10pm-1am Open Bar
The open bar has an excellent selection to keep you having fun all night.
12am Champagne Toast at Midnight
As midnight approaches, make sure to pick up a glass of champagne and some noise-makers. It's gonna be a great segue into the New Year!!