Table Organizer / Create Your Own Group Table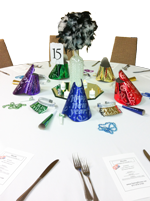 We are inviting you to host your own table at Dancing New Year's Eve CT. If you would like to invite your family and/or friends to sit at one table we will help make that possible.
Here's how it works:
---
Method 1: Do It Yourself
Use our registration page for a table of 10 guests.
Method 2: Let Us Help You
We can create a special link for your group so each person can register directly for your table of 10-12 guests. We will coordinate with you to make sure your group is complete. Please contact us.